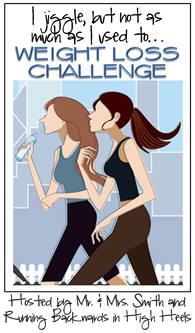 The rules of the game are simple. Write a post about your weight loss goals (how many pounds you'd like to lose) and what you plan to do to get there (exercise, diet, etc.). Then for the next 8 weeks, come back and link up and tell us about your progress: the percentage of weight you've lost (I'll get to that shortly), the exercise you've done, and how you've eaten. Any details you'd like to share.
Well, I noticed a lot of people are doing the jiggle challange and I want to join in on the fun. I had a baby nine months ago and gained 60 pounds. I have lost 55 pounds of the baby weight.
I workout about 5 days a weeks and once a day I workout twice once in the morning doing a crossfit challnege and run in the afternoon. My eating plan is I have 3 oz of protein, 1/2 cup of carbs, and a vegetable or fruit with my meal. I also have fresh fruit for a morning snack. My afternoon snack consist of protein. My goal weight is 150 or five inches off my waist which ever comes first. I am really interested in toneing everything up. Summer is almost here and I do not want to be in a cover up on the beach. ;)
3-2-1 Lets go!
Starting Weight 192
Pounds Lost:0
Waist:38
Percent:
Pounds left: 42